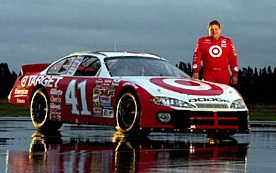 Hello Everyone,
Welcome to the 2002 Fantasy Racing League.
Let me introduce myself, my name is Kraig but everyone calls me Mr.E!. This nic is for my favorite driver Jimmy "Mr. Excitement" Spencer.
The round mound of going around! :›)


This is the 3rd year of my FREE Fantasy League. Anyone can enter at anytime of the year. All I ask is that you use the same Team Name with Your Name so I can keep track for the season and that the Team Names be kept decently clean, for kids might be playing.
Click on Play & Points Info for how to play, Entry Form to fill out each weeks entries, Results for the Race, Weekly and Seasonal results, Prizes for a list of the prizes given away this year, Links for links to some of my favorite sites, racing and non-racing and NEW this season, Message Board where you may voice your opinions on anything.
If you have any questions, click on the icon to the left to E-Mail me. Also, please sign my Guestbook and let me know what you think.
Thanks for visiting and playing, Mr.E!